UTAH MULTI STATE CONCEALED FIREARM PERMIT CLASS
February 16 @ 10:00 am

-

2:30 pm

|

$140
SATURDAY FEBRUARY 16th, 2019
OnSight Firearms Training Presents:
UTAH MULTI STATE CONCEALED FIREARM PERMIT CLASS
$140.00 per person – $40 advance deposit / $100 day of class in CASH.
EEA Security Services
15 Sullivan Ave
Liberty, NY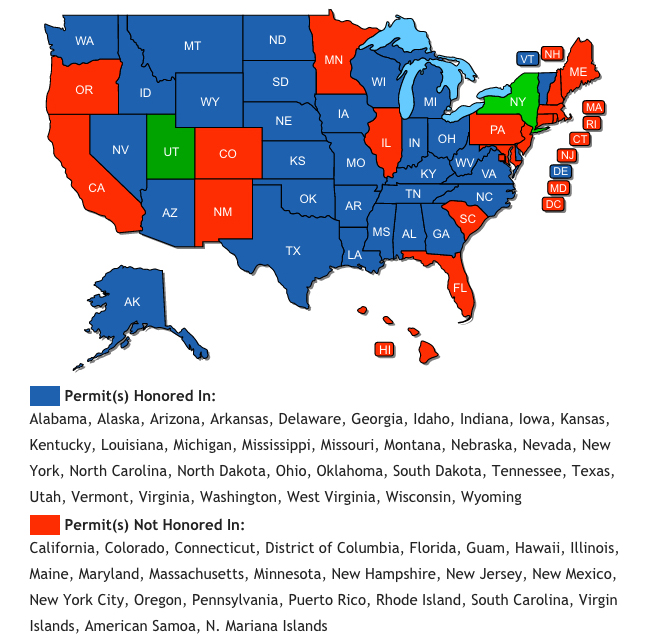 This class is open to residents of all states however, reciprocity may alter due to your state of residency.
Course fee is $140.00
This class includes all application material and finger prints. All you have to do after
you attend the course is acquire one passport photo, put all of the paperwork from
the course, along with a copy of your driver's license, and a check for $67.00 made
out to Utah BCI, in the envelope and send it all off in the mail!
The course fee DOES NOT include the processing fee for Utah.
A handgun permit is not required to apply for the Utah Non Resident permit.
UTAH PERMIT INFORMATION: The cost to submit the application to Utah State is
CURRENTLY $67.00. Applications must be submitted within one year of completing
the course. The Utah Permit is valid for five years and costs $15 to renew. A New
York gun permit is NOT required to get a Utah permit. However, the Utah permit is
NOT valid in New York.
Requirements:
1. Applicant must be at least 21 years of age
2. Proof of good character…whereas the applicant;
a. has not been convicted of a felony;
b. has not been convicted of any crime of violence;
c. has not been convicted of any offense involving the use of alcohol;
d. has not been convicted of any offenses involving the unlawful use of narcotics or
other controlled substances;
e. has not been convicted of any offenses involving moral turpitude;
f. has not been convicted of any offense involving domestic violence;
g. has not been adjudicated by a court of a state or of the United States as mentally
incompetent, unless the adjudication has been withdrawn or reversed.
All you need to bring to class is a black pen. In about 60 days you should receive
your permit (as long as you have no disqualifiers).
Note: New York State DOES NOT recognize the Utah permit.
If you want to own a handgun or carry one in New York State, you must obtain a
New York State permit.
AFTER THE UTAH CLASS: Information for private shooting lessons, Connecticut,
Florida, New Hampshire, Arizona, Virginia, Maine, Massachusetts, and Pennsylvania
non-resident permits, and NRA Certificates is also available.
For more info contact: onsightfirearmstraining@gmail.com or visit
www.onsightfirearmstraining.com
OnSight Firearms Training has partnered with BlackPoint Tactical to give our customers
a great deal on the best kydex holsters on the market!
BlackPoint Tactical manufactures a full line of KYDEX products built around the ideas of comfort and concealment. BlackPoint Tactical produce hand crafted products which are entirely Made in the USA. They strive to produce a top quality product exceeded only by the level of customer service provided. Please visit their website and if purchasing, please use coupon code: OFTUSA for a nice discount!
UPDATED CLASS LIST FOR 2019 – https://www.oftllc.us
CUSTOMER REFUND REQUESTS OR CUSTOMER CANCELLATIONS
Class Transfer: With 48-hour advance notice of event date we will reapply your deposit to another class of your choice.
Cancellation Refund: Refunds for 75% balance of deposit amount, if no transfer is possible, but ONLY if we are notified of the cancellation up to 48-hours in advance of event date.
No-Call/No-Show: Participants who do not show to the event without prior 48-hour notice forfeit their deposit.